Online Veröffentlichungen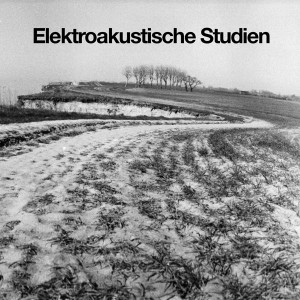 "Elektroakustisch" means that the music on this album is produced with and without electronic devices. The title does not imply a genre or habitus.
"Studie" stands for an experimental, process-orientated method. I do not consider these "Studien" as complete songs or tracks.
"Elektroakustische Studien" is no promise. It is a desrciption a priori. No genres. No limitations. Just me.
Instruments used:
Bass Guitar, Cello, Drums, Flute, Grand Piano, Melodica, Phone Connector, Ping Pong Ball, Saxophone, Synthesizer, Tuba, Vibraphone, Voice, Xylophone
Software used: Ableton Live, Max/MSP
———————————————————————————————————————–
Nils Nordmann – They Say That Time Changes Things, But You Actually Have To Change Them Yourself
7 Titel
Spielzeit: 29:13 Min.
Aufgenommen und gemischt im Sommer 2009 @ Studio Royal, Hannover von Nils Nordmann
Titel:
01 Yeah Ah
02 Phase#1
03 Well Tuned DX7
04 Ether
05 They Say
06 Phase#2
07 Taipeh 201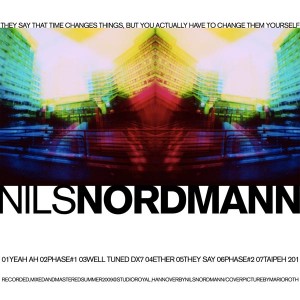 Download Album (61mb)
———————————————————————————————————————–

Lehre 
"Have you got Jack?" – Zur Geschichte und Produktion elektronischer Tanzmusik, montags, 16-18 Uhr, SS 2012, Universität Hildesheim
Beschreibung:
Die Studierenden dieses Seminar erforschen die Ursprünge der elektronischen Tanzmusik – von Disco über House zu Techno und Breakbeat. Es werden genretypischen Merkmale herausgestellt und einzelne Werke analysiert. Weiterhin bekommen die Teilnehmer des Seminars einen praktischen Einblick in die Produktionsweisen von elektronischer Tanzmusik.
Die Studienleistung besteht aus der Produktion eines eigenen EDM-Tracks oder der experimentellen (Neu-)Arrangierung eines bestehenden Werkes.

Geschichte, Genres und Ästhetik der Elektronischen Musik, freitags, 12-14 Uhr, WS 2011/12, Universität Hildesheim
Beschreibung:
Elektronische Musik ist Mainstream. Inzwischen kommt fast keine Musikproduktion ohne elektronische Mittel aus, sei es durch Synthesizerklänge, Loops und Samples, mit denen die Musik angereichert wird oder durch die inzwischen vollelektronischen Aufnahmegeräte, die den Gesang glätten oder die Fehler der Musiker herausfiltern.
Wie aber entstanden all diese neuen Möglichkeiten? Wie kann man Elektronische Musik überhaupt definieren? Welche ästhetischen Gesichtspunkte bringt dieses Genre mit sich?
Dieses Seminar beschäftigt sich mit geschichtlichen und ästhetischen Aspekten der Elektronischen Musik. Während der erste Teil des Seminars in Vorlesungsform den Studierenden einen Einblick in das Thema vermitteln soll, ist der zweite Teil praxisorientiert. Hier organisieren die Studierenden eine Veranstaltung mit elektronischer Live-Musik und Vorträgen.
"As for the future of electronic music, it seems quite obvious to me that its unique resources guarantee its use, because it has shifted the boundaries of music away from the limitations of the acoustical instrument, of the performer's coordinating capabilities, to the almost infinite limitations of the electronic instrument. The new limitations are the human ones of perception" (Milton Babbitt).
Elektronische Musik im Spannungsfeld zwischen U- und E-Musik, donnerstags, 18-20 Uhr, SS 2011, Universität Hildesheim
Beschreibung:
Die hauptsächlich im deutschsprachigen Raum getroffene prinzipielle Unterscheidung von "leichter" und "ernster" Musik wird in der Musikwissenschaft kontrovers diskutiert. Gerade die elektronischen Musik, in ihrer Bandbreite von Techno bis hin zu Neuer Musik, befindet sich im Spannungsfeld zwischen E- und U-Musik.  In diesem Seminar sollen die Studierenden einen Einblick in die Geschichte dieser Klassifikation gewinnen und sich mit dem Thema, bezogen auf die elektronische Musik, anhand von Fallbeispielen und ausgewählten Texten kritisch auseinandersetzen.